Page 8 - Résidences des Pyrénées Orientales
P. 8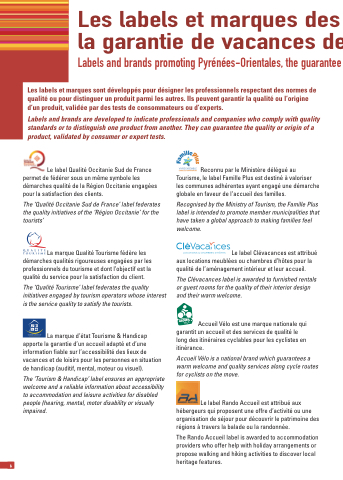 Les labels et marques des
la garantie de vacances de
Labels and brands promoting Pyrénées-Orientales, the guarantee
Le label Qualité Occitanie Sud de France permet de fédérer sous un même symbole les démarches qualité de la Région Occitanie engagées pour la satisfaction des clients.
The 'Qualité Occitanie Sud de France' label federates the quality initiatives of the 'Région Occitanie' for the tourists'
La marque Qualité Tourisme fédère les démarches qualités rigoureuses engagées par les professionnels du tourisme et dont l'objectif est la qualité du service pour la satisfaction du client.
The 'Qualité Tourisme' label federates the quality initiatives engaged by tourism operators whose interest is the service quality to satisfy the tourists.
La marque d'état Tourisme & Handicap apporte la garantie d'un accueil adapté et d'une information fiable sur l'accessibilité des lieux de vacances et de loisirs pour les personnes en situation de handicap (auditif, mental, moteur ou visuel).
The 'Tourism & Handicap' label ensures an appropriate welcome and a reliable information about accessibility to accommodation and leisure activities for disabled people (hearing, mental, motor disability or visually impaired.
Reconnu par le Ministère délégué au Tourisme, le label Famille Plus est destiné à valoriser les communes adhérentes ayant engagé une démarche globale en faveur de l'accueil des familles.
Recognised by the Ministry of Tourism, the Famille Plus label is intended to promote member municipalities that have taken a global approach to making families feel welcome.
Le label Clévacances est attribué aux locations meublées ou chambres d'hôtes pour la
qualité de l'aménagement intérieur et leur accueil.
The Clévacances label is awarded to furnished rentals or guest rooms for the quality of their interior design and their warm welcome.
Accueil Vélo est une marque nationale qui garantit un accueil et des services de qualité le long des itinéraires cyclables pour les cyclistes en itinérance.
Accueil Vélo is a national brand which guarantees a warm welcome and quality services along cycle routes for cyclists on the move.
Le label Rando Accueil est attribué aux hébergeurs qui proposent une offre d'activité ou une organisation de séjour pour découvrir le patrimoine des régions à travers la balade ou la randonnée.
The Rando Accueil label is awarded to accommodation providers who offer help with holiday arrangements or propose walking and hiking activities to discover local heritage features.
6
Les labels et marques sont développés pour désigner les professionnels respectant des normes de qualité ou pour distinguer un produit parmi les autres. Ils peuvent garantir la qualité ou l'origine d'un produit, validée par des tests de consommateurs ou d'experts.
Labels and brands are developed to indicate professionals and companies who comply with quality standards or to distinguish one product from another. They can guarantee the quality or origin of a product, validated by consumer or expert tests.
benefit.